York - Victims of the soul continues to fall due to
flu virus H1N1 (swine flu)
in the United States (U.S.). One more woman died after the disease was infected.
(picture take from
www.kalbe.co.id)
Women who are not mentioned his name was aged around 50's. Woman living in Queens, New York. He was the sacrifice to soul-11 in the U.S. died due to
the flu virus H1N1.
In addition to suffering from flu H1N1, he also has other health problems. Said spokesperson for the Ministry of Health in New York City, Jessica Scaperotti as dilansir daily New York Times, Monday (25/5/2009).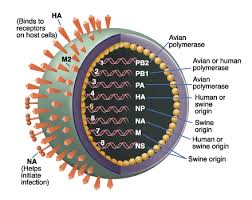 Scaperotti deny the information. But say, the woman died in the last 2 days and test results have confirmed that he is exposed to
flu virus H1N1.
The woman is the H1N1 flu patient who died both in New York. The first victim is killed Mitchell Wiener, deputy head of school at the Queens high school. He died on 17 May
Currently, at least 12,022 cases of H1N1 flu have been reported to the World Health Organization (WHO) from 43 countries. More than half of the cases that occurred in the U.S.
Geneva -
flu vaccine to treat pigs finished targeted the end of June
.
The vaccine is very important means to prevent the H1N1 virus spread more widely to the world
. However, there are still problems related to the availability of vaccines for poor countries.
"We hope the end of June or early July with commercial companies will be able to make a vaccine," said an official while the Assistant Director General of WHO Keiji Fukuda as quoted AFP, Jumat (22/5/2009).
According to Fukuda, now the middle of the experts to weigh whether the vaccine production will be carried out continuously. For the production of vaccines that have reduced or even stop making seasonal flu vaccines.
"We will temporarily suspend the decision concerning this matter," said Fukuda.
Production of a vaccine to treat H1N1 virus could reach 4.9 billion doses per year. However, in addition to the impact on the production of seasonal flu vaccine, which also must be considered is the issue of the test dose and safety of these vaccines.
WHO target to send virus samples to pharmaceutical companies the end of this month. 30 Company of the vaccine from 19 developed and developing countries were invited by the WHO in a meeting on Tuesday (19/5/2009) and to discuss the production of these vaccines.
Key issues in the meeting was the cost of making and availability of vaccines for poor countries. WHO seeks middle explore funding from World Bank and international health foundation to finance the supply of vaccines to the poorest countries.